Appreciating Audio
We tend to think of film and television as primarily visual, but sound makes a huge impact on how we experience them.  In the world of animation, sound design takes on an especially important role, because you are (usually) starting with a  completely blank slate.  Sometimes, animated films take place in realities that are completely imagined.  It is often the job of the sound designer to make these worlds feel both fantastical and relatable.  The Danish short film below uses sound masterfully to create a reality that is bizarre, yet familiar.
We can break film sound down to a few basic categories: dialog, effects, music, and ambience.  Dialog is the sound of characters speaking.  Effects are the incidental sounds that things make: footsteps, creaking doors, squealing tires, and so on.  Music is generally one of the last audio elements added – although temporary music is quite often used in animatics.
Ambient sounds are persistent sounds that are often almost subconscious.  In an outdoor scene, the ambient sound might be the wind faintly rustling through trees.  In an indoor scene, the ambient sound might be the hum of an air conditioner.  Ambient sound is sometimes referred to as "room tone."  Every space has its own subtle sound – we are almost never in a completely soundless environment.  Ambient sounds are different from sound effects in that ambience is tonal instead of narrative; instead of telling part of the story, it helps set the mood.
When you are adding sound to your own projects, I would encourage you to never have complete silence.  There should always be ambient sound or music or something.  It's actually very jarring to suddenly have all audio cut out.  Unless that is the specific effect you are going for, include some sort of sound at all times.
Audio in After Effects
The audio tools in After Effects are pretty basic, but they are enough to do a fairly simple audio mix with.  You can add keyframes to the levels on any layer with audio, which lets you fade sounds in and out or adjust the overall volume.  There are also a handful of audio effects that can be applied.  These can be used to do things like add reverb or tweak the bass and treble of a track.  Adding the "Stereo Mixer" effect to a layer will allow you to pan audio to the left or right channels.  Remember that you can mute tracks by unchecking the box with a speaker icon in the timeline.

For the projects we are working on in this class, these tools should be more than sufficient.  If you want to do more advanced audio work, however, I would recommend using a different program.  Audacity is free to download and can be used to create sophisticated multi-track mixes.  If you subscribe to Adobe's Creative Cloud service, you have access to Audition, which has powerful tools for filtering, modifying, and repairing audio.  Many video editing tools also have solid audio capabilities, so if you are familiar with Premiere Pro or Final Cut Pro, those are good options as well.  On the really advanced end of the spectrum are dedicated and complex programs such as Avid's Pro Tools.
Whatever software you end up using, the most important aspect of sound design is to be conscious of the ways that it alters your film.  If you want to create a sense of unease or dread in your short film, try using some dark, droning ambient noise.  If you want to make a scene bright and happy, reflect that with your music choices.  To make your film seem more exaggerated and "cartoony," you can add obvious sound effects to your character's movements – such as a "whoosh" when they turn their head.  For a more realistic approach, be more subtle.  The options are endless.
Remember that there is a section called RESOURCES linked in the top menu of this website.  It contains links to pages where you can download royalty-free music, ambience, and sound effects.
Extra Special Effects
There are a lot of effects built into After Effects and countless more can be added using third-party plugins and scripts.  While there are far too many to discuss them all individually, I thought it might be useful to take a look at a few of them more closely.  Here are a few "must know" effects – and a couple that are just fun to play with.
Curves (Color Correction)
Curves is a simple, but powerful tool that you may already be familiar with if you have experience with photo editing or color correction.  Curves gives you control over the color information in an image or video by letting you adjust the red, green, blue, and alpha channels, as well as the overall saturation and brightness.  You simply choose the channel you want to adjust, then click and drag points on the appropriate line.  A small adjustment goes a long way with this effect – dragging a line all the way to the top or bottom of the graph will probably give you pretty bizarre results.  If you want a simpler method of color correcting something, there are also effects for Brightness & Contrast and Hue/Saturation in the Color Correction section – but I think Curves gives the most control.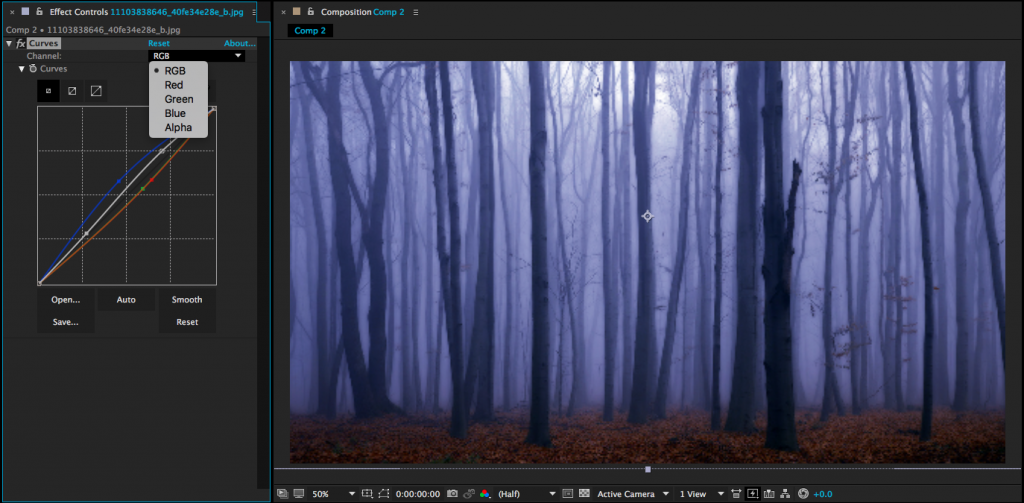 Glow (Stylize)
This is an effect that's easy to overuse, because it often just makes things look cooler.  Adding Glow produces a soft aura around the bright areas of an image.  The "Glow Threshold" determines how bright something needs to be for the glow to appear – so to make more of the image glow, you actually set the threshold to a lower percentage.  You can also adjust the radius, intensity, and color of the glow to dial in the exact look you are going for.  To give your entire scene a hazy glow, try creating an adjustment layer and adding Glow to it – just be aware that it might slow down your render time.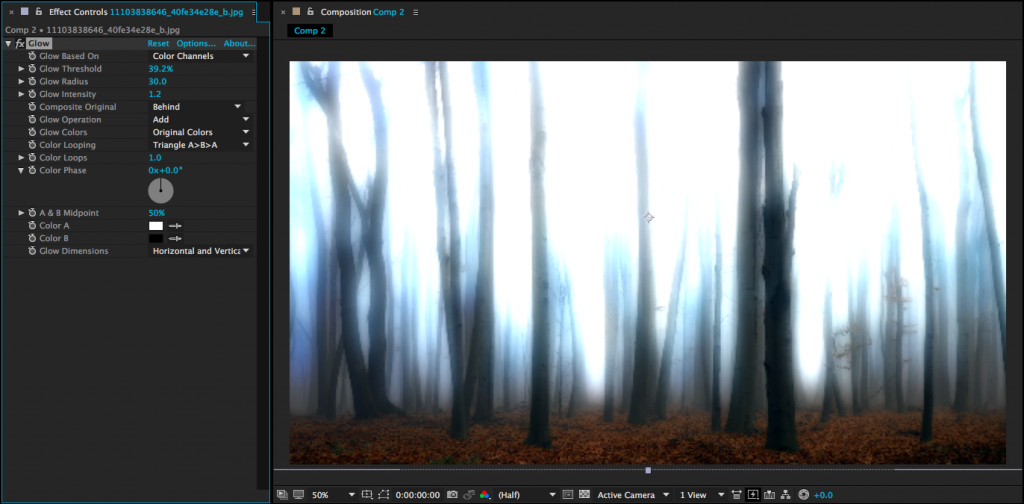 Gradient Ramp and Fill (Generate)
Both Fill and Gradient Ramp are simple effects that get used a lot.  Adding Fill to any layer will cover that layer with the solid color of your choice.  So, if you wanted to create a silhouette version of a character you were animating, you could pre-compose the character's layers and apply a dark grey Fill to the resulting composition.  Gradient Ramp does the same thing, but uses either a linear or radial two-color gradient instead of a solid color.  You can use Gradient Ramp to quickly add a bit of visual interest to an otherwise plain background.  Changing the start and end points of the Gradient Ramp affects where one color stops and another begins.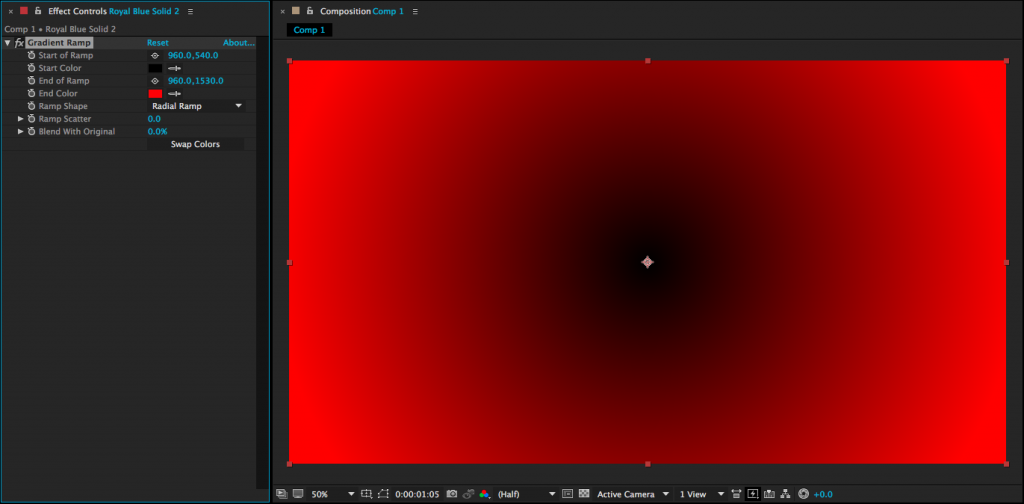 Fractal Noise (Noise & Grain)
Much like the Gradient Ramp and Fill effects discussed above, adding Fractal Noise to a layer covers that layer completely.  However, instead of a simple color or gradient, Fractal Noise creates a complex black and white noise pattern on the layer.  Changing the "Fractal Type" will allow you to generate a variety of patterns  – some are blocky, some look like smoke, some look like television static.  You can adjust the contrast, scale, and more, but the real magic of Fractal Noise comes from animating the "Evolution" property of the effect.  This causes the noise to change dynamically, which gives really interesting results.  Fractal Noise is a great effect to use when you want to give a project some texture.  Create a solid on top of your composition, add the effect, then change the transfer mode and/or opacity of the layer so that it is barely visible – the result can be really striking.  Fractal Noise has tons of other potential uses as well; you could use it to simulate smoke or water, create a unique background, or combine it with other effects.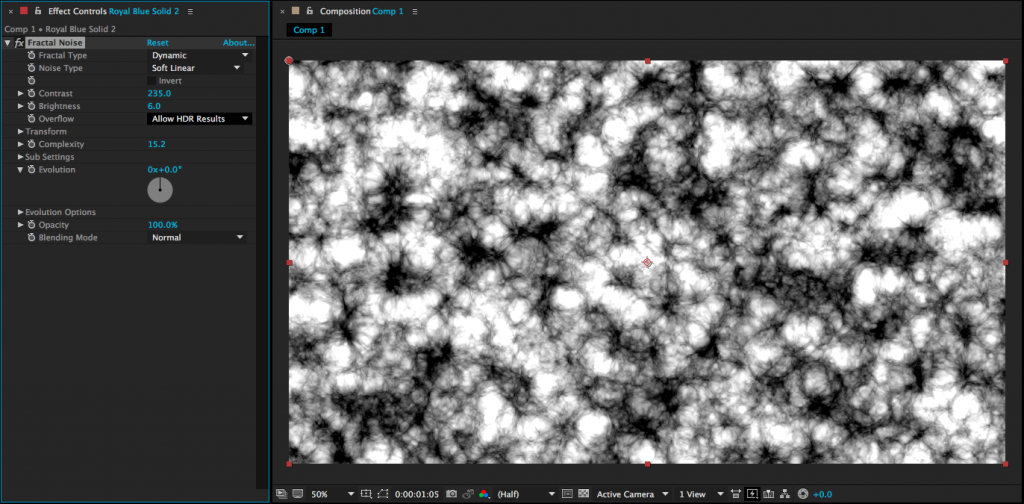 Gaussian Blur, Fast Blur, and Camera Lens Blur (Blur & Sharpen)
There are several blurring effects in After Effects, but I use these three the most.  Gaussian Blur and Fast Blur are basically interchangeable – they are simple blur filters that don't take too long to render.  For a long time, Fast Blur was my go-to because it rendered (imagine this) faster, but recent versions of After Effects have improved the speed of Gaussian Blur and moved Fast Blur to the Obsolete category of effects.  It still works well, though.  For the absolute best results, however, I would recommend Camera Lens Blur.  This effect does a much better job of recreating the kind of blur you get from an out-of-focus camera lens; points of light, for example, are rendered more realistically using Camera Lens Blur than Gaussian Blur.  The downside of Camera Lens Blur is that it is much more processor-intensive and will slow your computer down more than the other options.  One thing to note with all of the blurs is that the edges of the layer you are blurring will soften along with the rest of the image unless you check the "Repeat Edge Pixels" option.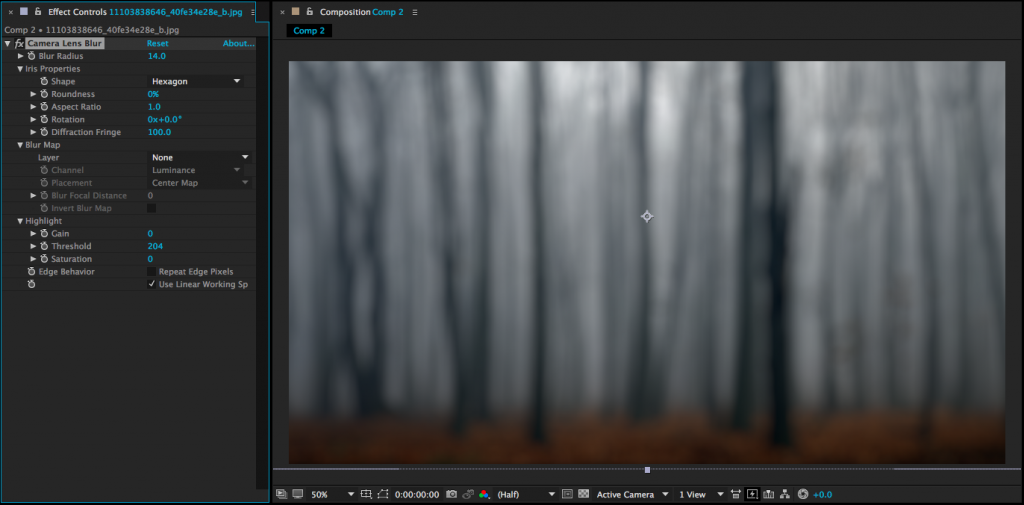 Offset (Distort)
Offset is a very cool effect that can be used for things like endlessly looping backgrounds.  When you apply it to a layer, you can keyframe to "Shift Center To" property to scroll through endless copies of that layer.  If you do this to a layer that is seamless on either the left and right or top and bottom, you'll have a nice infinite loop.  This is a great way to do something like clouds floating by continuously in the background of your shot.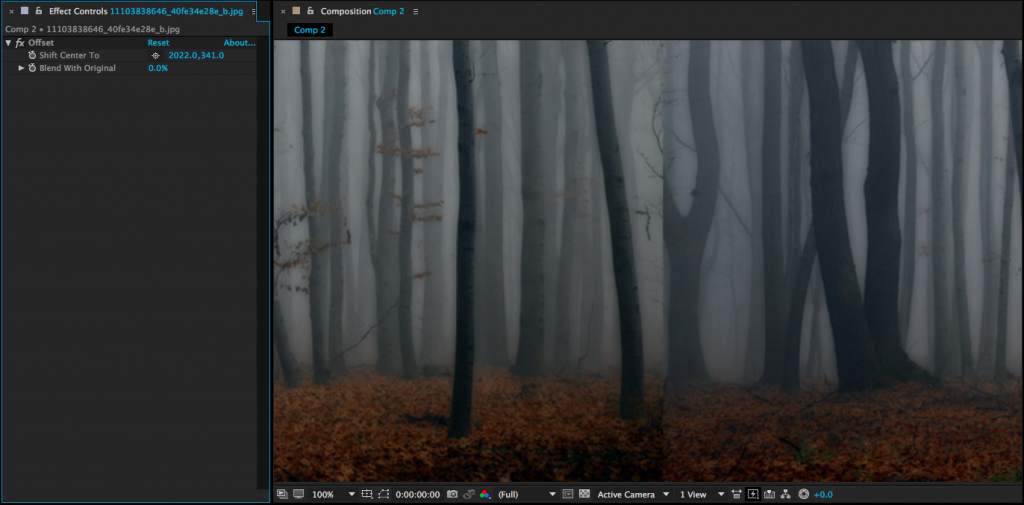 Audio Waveform (Generate)
This is a neat effect for quickly and easily creating an audio waveform.  It should be applied to a solid or other visual layer – not the audio layer itself.  Once the effect is applied, you can choose the appropriate audio layer from the first dropdown menu.  There are a few different styles to choose from and define the color, size, and position of the waveform.  If the waveform is too small or too large, change the "Maximum Height" property.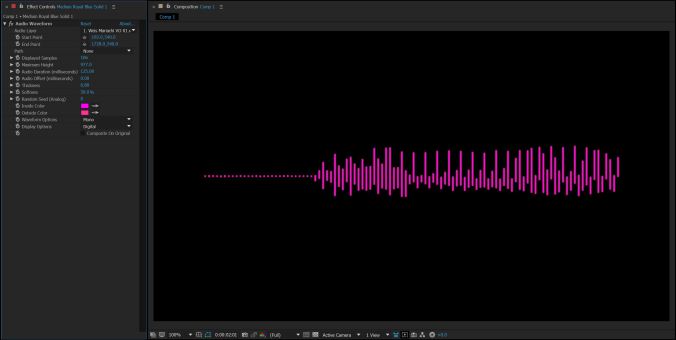 CC Snowfall and CC Rainfall (Simulation)
CC Snowfall and CC Rainfall can be used to quickly add "weather" to a scene.  You can dial in settings like the size, opacity, color, and density of the effects as well as playing with forces like wind and random variation.  Both effects look pretty good at their default settings, though.  Note that by default the effects are composited on top of a layer, so you should either pre-compose your scene and then add the effect to the resulting composition or apply the effect to a solid and uncheck the "Composite With Original" box.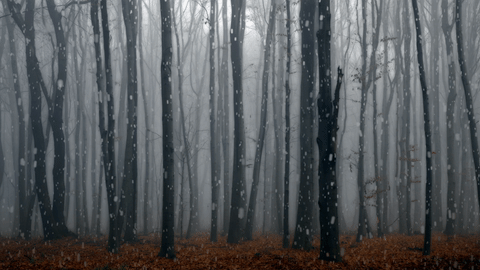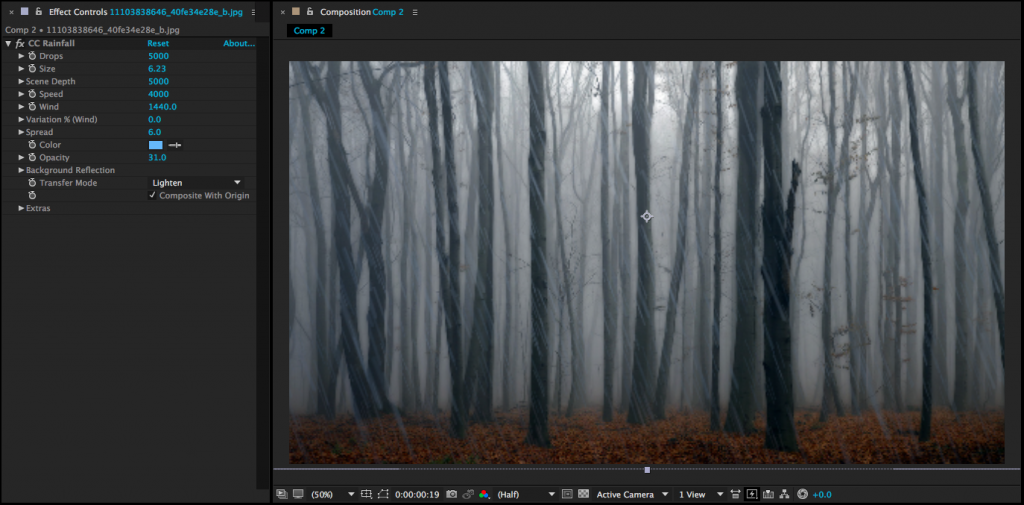 Advanced Lightning (Generate)
Rounding out the weather effects is Advanced Lightning, which is just like regular lightning, but with a way cooler name.  In all seriousness, After Effects does a pretty solid job of simulating lighting.  There are several different types to choose from and you can define the size, color, and how many "forks" the bolt has.  If you want the lightning to crackle, keyframe the "Conductivity State."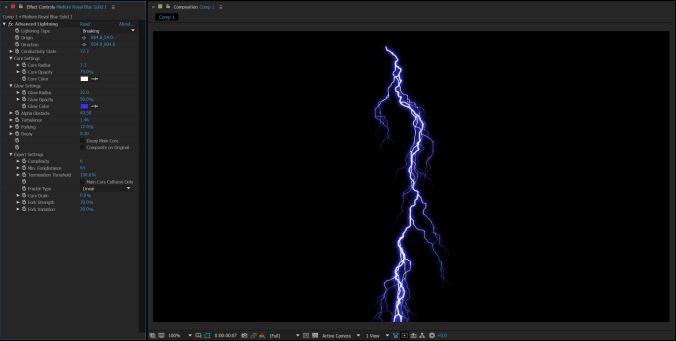 Midterm Projects
The mid-semester projects are due in one week, on March 29.  Send me your finished projects before class next Wednesday – you can review the details of the project at this link.  I'm looking forward to seeing what you all come up with!